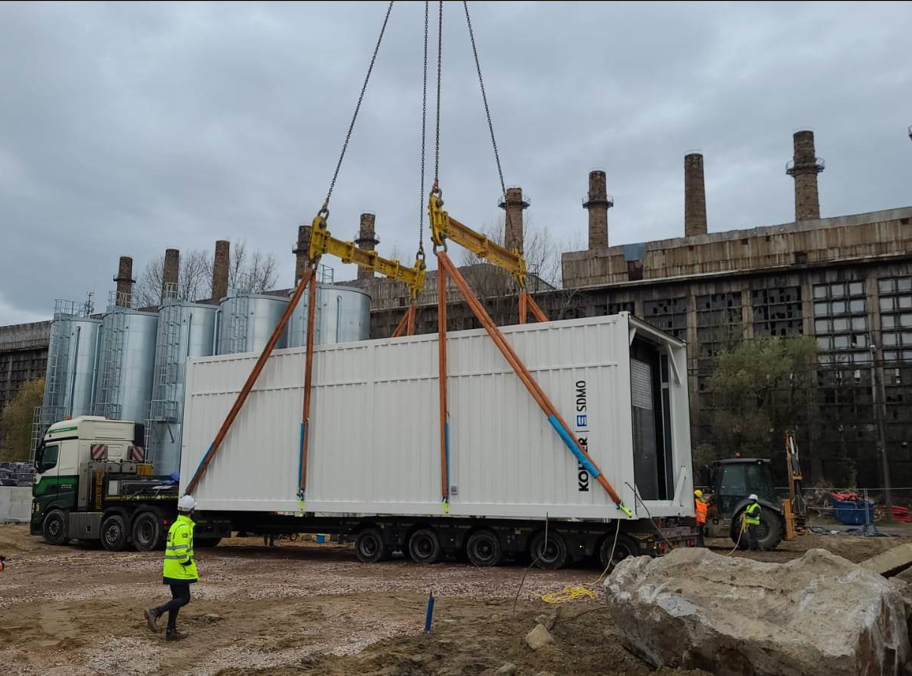 Wspomnijmy jedną z naszych ostatnich realizacji dla kluczowego gracza w sektorze bezpieczeństwa danych.
Wybór jednostki padł na model Kohler SDMO KD3500-E, agregat prądotwórczy z (czterokrotnie) doładowanym silnikiem wysokoprężnym z wtryskiem paliwa typu common-rail.
Seria KD to wisienka na torcie wszystkich agregatów dostępnych w naszej ofercie, crème de la crème europejskiej produkcji, wykorzystująca najnowsze rozwiązania technologiczne.
Silnik V16 posiada moc ponad 4000 koni mechanicznych, pojemność skokową 82 litrów, a sam agregat generuje zawrotną moc 3500 kVA!
Takich jednostek przygotowaliśmy 6, pracując w pocie czoła – do naszego zadania należało skoordynowanie i wykonanie montażu jednostek prądotwórczych.
Każda składa się z czterdziestostopowego kontenera z najważniejszym elementem – agregatem (wraz z całym elektrycznym osprzętem), zbiornika paliwowego ON o pojemności 18000L funkcjonującego jako podstawa kontenera, czerpni oraz wyrzutni powietrza, katalizatora (system SCR) i komina spalinowego, a także podestów technologicznych.
Ciężar gotowej instalacji to 87 ton.
Jednostki przeszły pomyślnie testy i dzielnie pilnują, by serwerownia pracowała 24 godziny na dobę. 🙂