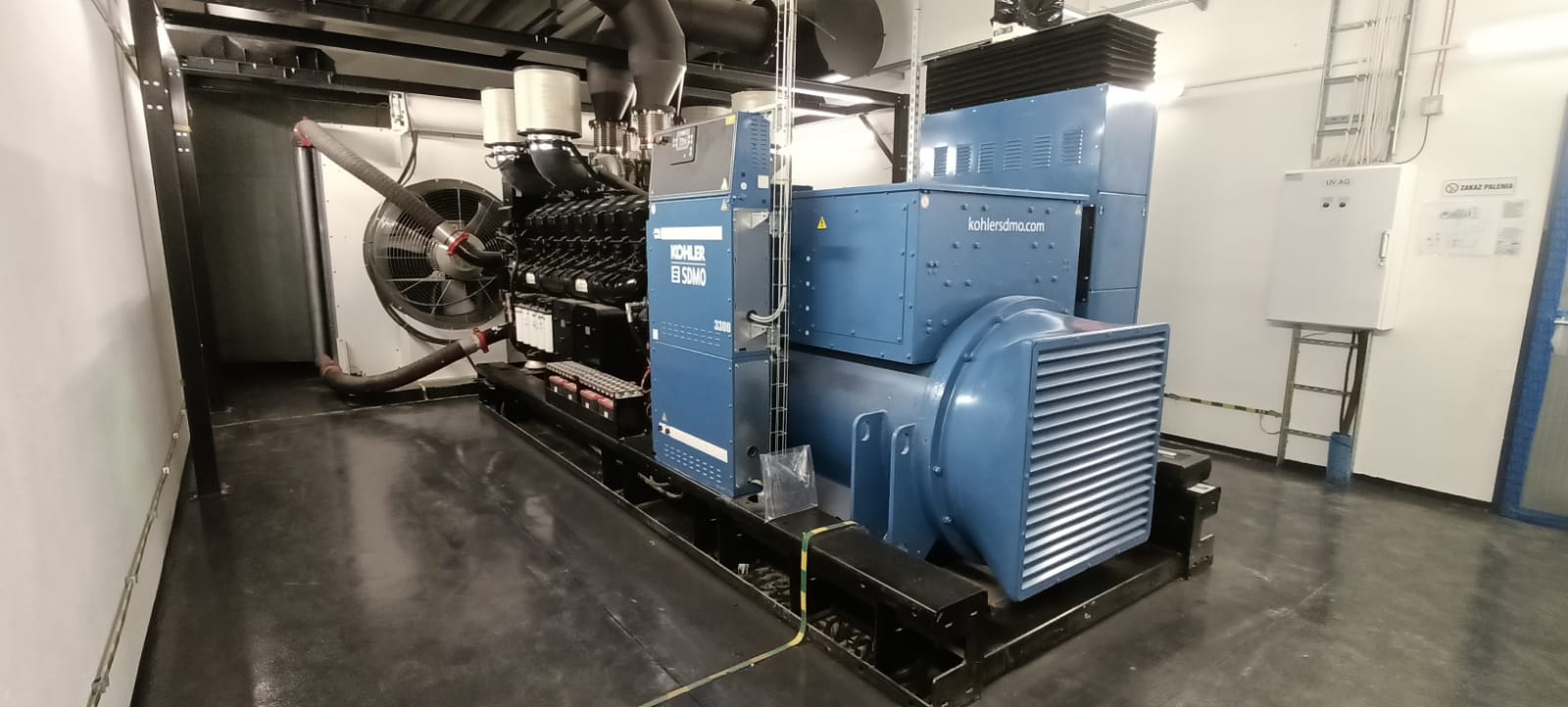 Każde Centrum Dystrybucyjne jest wyposażone w rozwiązania zapewniające nieprzerwaną dostawę energii elektrycznej – składają się na nie banki energii UPS, redundantna linia zasilająca z sieci energetycznej oraz agregat prądotwórczy. Dobra i towary przechowywane są w wielu chłodniach oraz mroźniach, które bez zasilania nie są w stanie utrzymać odpowiednio niskiej temperatury, dlatego utrzymanie ciągłości zasilania jest tak niezwykle ważnym wymaganiem naszego Klienta.
Zapotrzebowanie na moc dla odbiorów krytycznych obiektu wynosi ponad 3 MW, dlatego zaproponowaliśmy rozwiązanie w postaci agregatu prądotwórczego Kohler SDMO KD3300-F. Jest to model z najwyższej dostępnej serii koncernu Kohler, produkowany we Francji. Wyposażony został w czterokrotnie turbodoładowany wysokoprężny silnik spalinowy o mocy 3800 koni mechanicznych oraz wolnostojącą chłodnicę.
Aby zasilić jednostkę, zastosowaliśmy zbiornik paliwowy o pojemności 40 000 litrów – został on zintegrowany z zautomatyzowaną instalacją paliwową. Dwa tłumiki wygłuszające oraz dwa kominy wyrzutu spalin stanowią kolejny element tej realizacji – średnica jednego komina to DN450. Standardowa wyrzutnia powietrza wykonana w ścianie połączona została z wyrzutem gorącego powietrza z chłodnicy agregatu. Warto również wspomnieć o specjalnie zaprojektowanej czerpni dachowej z sześcioma przepustnicami z siłownikami sterującymi. 
Całość przedsięwzięcia była czystą przyjemnością. A instalacje szyte na miarę, można powiedzieć, niepowtarzalne! Jesteśmy bardzo zadowoleni z efektu końcowego.