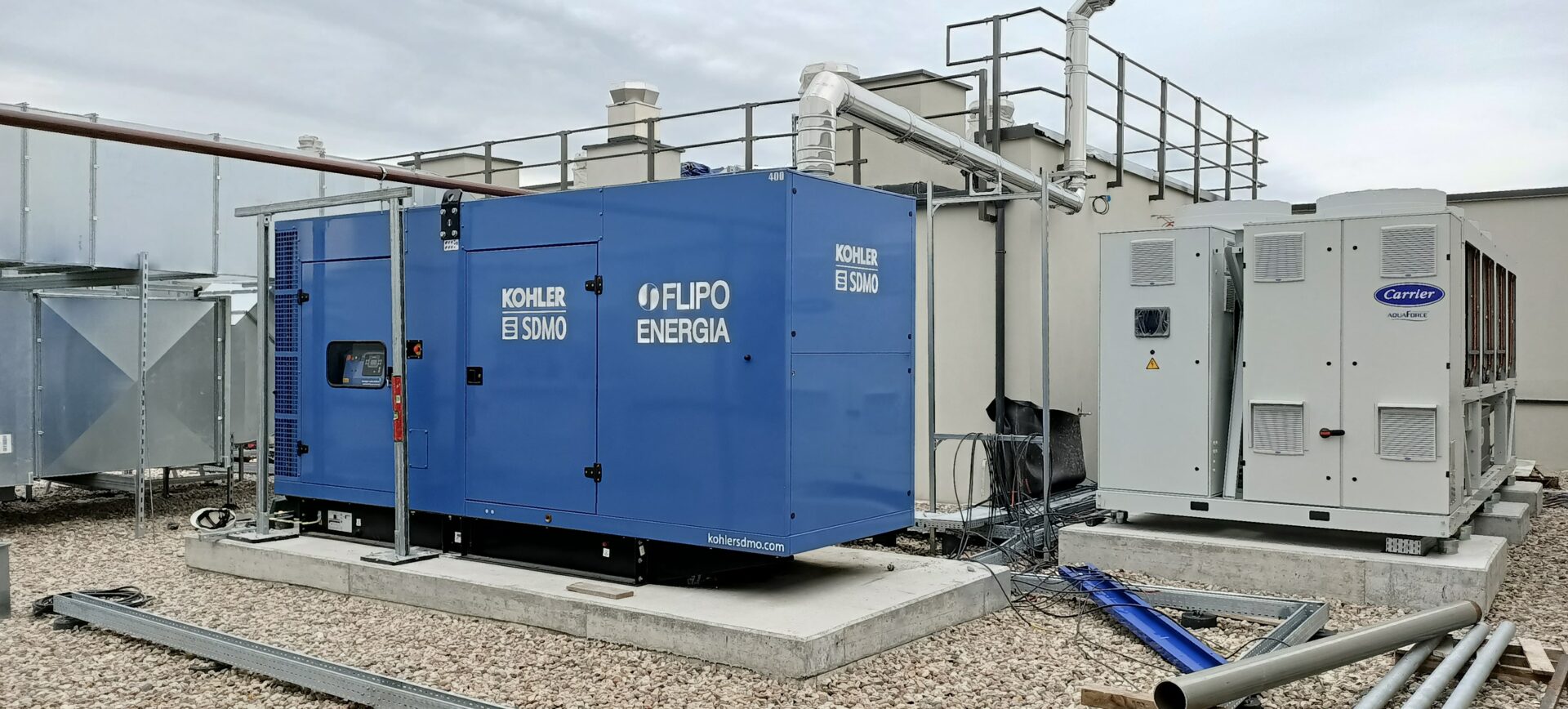 W tym roku firma Flipo Energia stawiana jest przed wieloma wyzwaniami związanymi z realizacjami projektowymi i cieszymy się, że nasz dorobek zawodowy oraz doświadczenie powiększają się z każdym kolejnym uruchomionym agregatem. We wrześniu tego roku nad naszym pięknym, polskim morzem stanął agregat prądotwórczy Kohler SDMO V400C2 o mocy 400kVA. Posadowienie naszego urządzenia na dachu budynku wymaga od niego trwałości oraz odporności na warunki atmosferyczne, na które będzie wystawione przez lata. Zapewnia to specjalnie przygotowana do tego obudowa agregatu M228: Blacha stalowa jest ocynkowana elektrolitycznie przed malowaniem (wewnątrz i na zewnątrz) za pomocą poliestrowej powłoki proszkowej, śruby i nity są dwuchromianowe, zawiasy z anodowanego stopu aluminium, posiada również elastyczne uszczelki pomiędzy elementami obudowy. Wykorzystując sprawdzony i niezawodny silnik Volvo agregat będzie zasilał budynek biurowy w sytuacji zaniku prądu z sieci. 
Żeby jednak V400C2 mogło spełniać swoje zadanie, potrzebne są instalacje użytkowe agregatu – w tym przypadku instalacja wyrzutu spalin oraz instalacja paliwowa wraz z magazynem paliw zlokalizowanym na poziomie -1. Posadowienie agregatu na dachu pozwoliło na zapewnienie odpowiedniej cyrkulacji powietrza, więc instalacje czerpni oraz wyrzutni powietrza nie były w zakresie tej realizacji. Rury paliwowe prowadzone są przez cały pion budynku w szachcie paliwowym, a transfer paliwa odbywa się za pomocą pompy zlokalizowanej w magazynie paliw. Wykonaliśmy też całą automatykę paliwową, która wspomaga proces tankowania zarówno zbiorników, jak i agregatu oraz zapewnia detekcję wycieku paliwa w razie nieszczelności instalacji. Warto wspomnieć również o systemie gaszenia, do którego straż pożarna znajdzie łatwo dostępne przyłącze zlokalizowane w skrzynce gaśniczej na elewacji budynku. 
Flipo Energia to więcej niż dystrybutor agregatów – to dostosowanie rozwiązań pod potrzeby naszych Klientów. To również prowadzenie realizacji w pełnym jej zakresie, od rysunków projektowych, przez nadzór prac na obiekcie, aż po dokumentację powykonawczą.