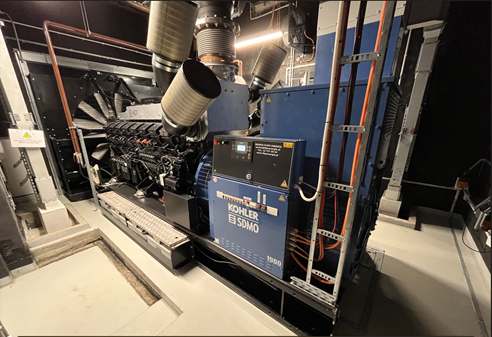 Opadł kurz po odbiorach końcowych budynku, zatem chcemy podzielić się informacją, że nasze dwie jednostki Kohler T1900 zostały przetestowane i przekazane Klientowi. Każdy z agregatów prądotwórczych posiada moc 1900 kVA ESP. Łącznie to prawie 4000kVA w samym centrum Warszawy!
Działają jako agregaty budynkowe – zasilając budynek w energię elektryczną w razie zaniku prądu. Skonfigurowaliśmy je do pracy równoległej – agregaty pracują synchronicznie, odpowiednio dzieląc się obciążeniem budynkowym, co pozwala m.in. na niezawodność zasilania oraz wydłużenie żywotności silników spalinowych.
Wyposażyliśmy jednostki w moduły Load Sharingu, które dają możliwość zmiany obciążenia na poszczególnych jednostkach.
Możemy jedną jednostką pracować na większym obciążeniu niż na drugiej dalej będąc w trybie pełnej synchronizacji.
Dodatkowo, gdy obciążenie dla zestawu zsynchronizowanych jednostek jest za małe następuje odłączenie się jednej jednostki i druga pracuje samodzielnie. Następnie gdy obciążenie budynkowe wzrośnie, odstawiona jednostka w przeciągu 10 sekund dołączy się do pracy pierwszej.
Wszystkie te opcje są w pełni zautomatyzowane, więc klient nie musi się niczym martwić.
Jest to zdecydowanie jeden z najbardziej ambitnych projektów, w jakich mieliśmy przyjemność uczestniczyć.
Zakres wykonanych prac:
instalacja wentylacji pomieszczeń agregatów ze zautomatyzowanymi przepustnicami
instalacja spalinowa DN450 -> 2x DN350 wraz z tłumikami spalin 40db(A)
instalacja pożarową korzystając z płyt silikatowo-cementowych
instalacja magazynowe – zbiorniki paliwa o łącznej pojemności 8000L, pompy paliwa, detekcję wycieku, automatykę paliwową
instalacja synchronizacji agregatów dla pracy równoległej