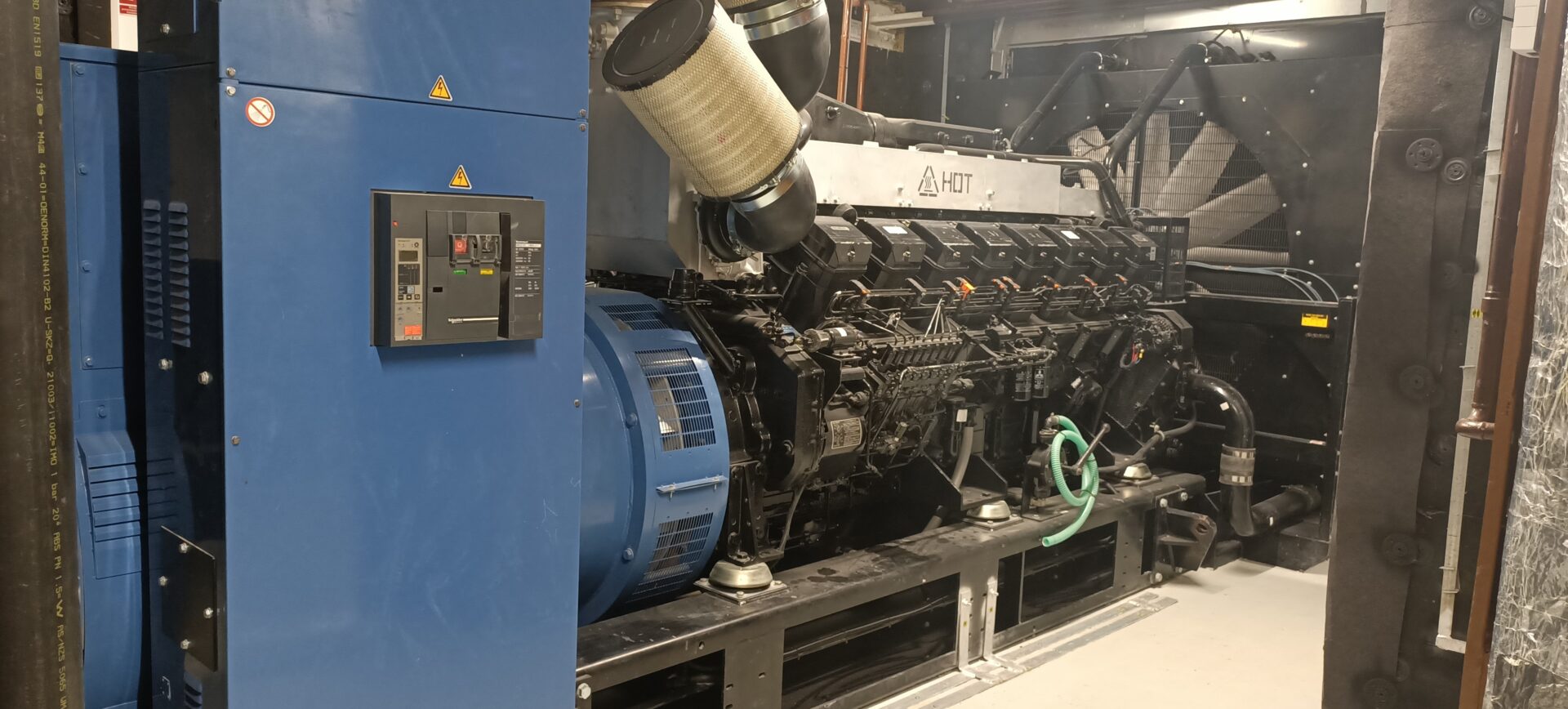 Opadł kurz po odbiorach końcowych budynku Varso Tower, to i my chcemy podzielić się informacją, że nasze dwie jednostki Kohler T1900 zostały przetestowane i przekazane Klientowi. Działają, już oficjalnie, jako agregaty budynkowe – zasilając budynek w energię elektryczną w razie zaniku prądu. Skonfigurowaliśmy je do pracy równoległej – agregaty pracują jednocześnie, odpowiednio dzieląc się obciążeniem budynkowym, co pozwala m.in. na niezawodność zasilania oraz wydłużenie żywotności silników spalinowych.
Jest to zdecydowanie jeden z najbardziej ambitnych projektów, w jakich mieliśmy przyjemność uczestniczyć. Z racji innowacyjnej lokalizacji agregatów (51 piętro budynku wysokościowego!) pojawiło się kilka wyzwań, którym dzielnie stawiliśmy czoła. Od wstawienia dwóch jednostek prądotwórczych o wadze 13 ton każda na wysokość prawie dwustu metrów, przez instalację paliwową prowadzoną z poziomu -1 na poziom 51 w systemie rurowym bez spawania, aż po automatykę obsługującą magazyn paliwa.
Wykonaliśmy pełne instalacje towarzyszące dla obydwu agregatów: instalację czerpni powietrza oraz wyrzutu gorącego powietrza wraz z zautomatyzowanymi przepustnicami, instalację komina spalinowego wraz z tłumikami spalin, zabezpieczyliśmy instalację paliwową korzystając z obudowy przeciwpożarowej w systemie płyt silikatowo-cementowych, wykonaliśmy magazyn paliwa o łącznej pojemności 8000L, instalację pomp paliwa, detekcji wycieku, automatyki paliwowej, a także wykonaliśmy pełną synchronizację agregatów dla pracy równoległej.
Każdy z agregatów prądotwórczych posiada moc 1900 kVA. Są to potężne jednostki wyposażone w silniki Mitsubishi o mocy 2280 koni mechanicznych.
Na zdjęciach znajdą Państwo instalację paliwową w systemie Brugg, zarówno przed montażem obudowy przeciwpożarowej, jak i po, a także oprzyrządowanie zbiornika paliwowego w magazynie paliwa i szafę sterowniczą automatyki paliwowej.